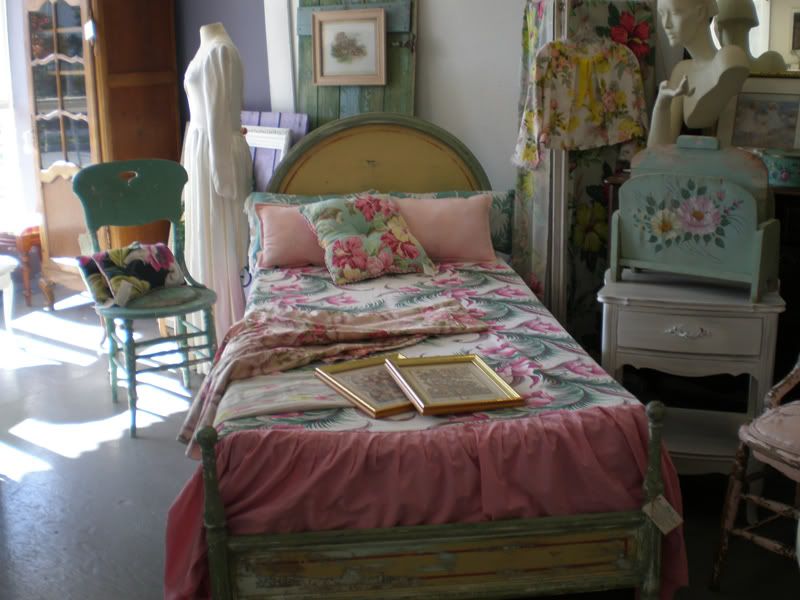 On Saturday I went on a little treasure hunt. I've been looking for a petite cabinet for my bathroom. Upon the suggestion of my friend Joanne, I made a trip to a quaint shop in Historic Crystal Beach.
A beautiful sunny afternoon and the lure of fulfilling my wish brought me to Mia's. It is housed in an old building on Erie Road overlooking a pastel coloured, gated community where once the infamous Crystal Beach amusement park stood.
As I ventured into the shop I was immediately charmed by the surroundings. Mia greeted me with her infectious smile and vibrant personality. We talked for some time about her offerings and the treasures that delighted me. From a pale subdued bedstead to brightly coloured girly dressers, this shop has it all.
Mia collects vintage castoffs and breathes new life into them. Some are painted, others newly upholstered...all one of a kinds.
She has clients from as far away as Toronto who have discovered the secret of her talent. Mia works out of her shop and is open during the winter. You can visit
www.miasupholstery.701.com
for hours and location.
If you're looking for that special piece or decorating ideas come visit Mia's. It's worth the trip to Crystal Beach. And if you close your eyes outside the shop and listen you may even catch a whisper from the old wooden roller coaster and the screams of delight a century ago.
Oh yes, I bought my cabinet and a shelf too. I couldn't leave empty handed!