As an antique textile appraiser I have the priviledge of gathering snippets of lace that have been hidden away for years and brought forth once again to be enjoyed.
Though I cherish the early European needle and bobbin laces the ones shown here best demonstrate the type I refer to as humble immigrant lace.
Tucked inside of trunks, folded neatly in a satchel or stuffed into a carpet bag these laces and their patterns came to America with the early settlers.
Sometimes named air-lace because unlike bobbin or needle they are made in the air with the help of nimble fingers, a needle, hairpin or crochet hook.
Irish crochet worn by royalty and the gentry arrived with the families escaping the potato famine of the early 1800's. Tatting crossed the continent in covered wagons. Hairpin and knitted lace were the topic of conversation in many a fancy parlor along the east coast.
And while the luscious Continental laces were coveted, smuggled and paid a king's ransom for, these little confections by the inch made their way across the ocean and into our hearts.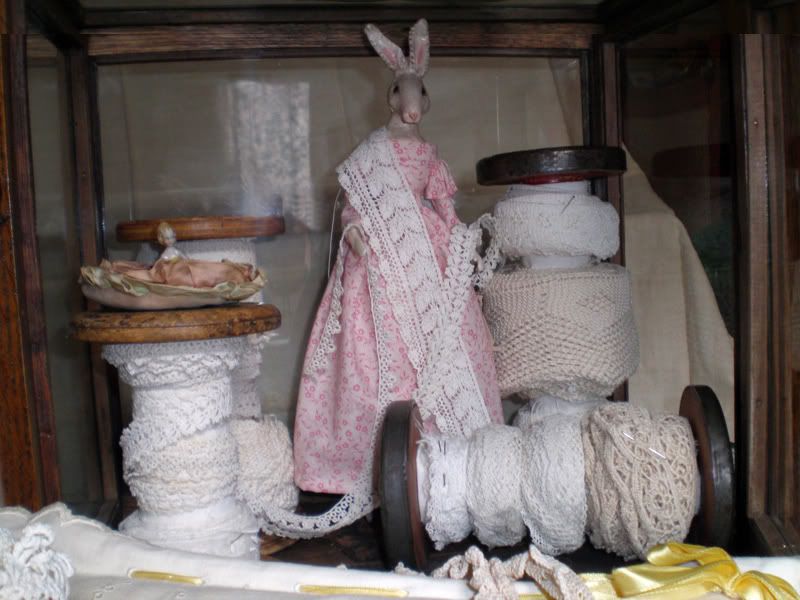 Cabinet - Bunny by Christine Crocker (Deerfield Farmhouse), lace on spools awaiting folkart dollmakers, seamstress' and collectors.