'One must face death in order to cherish life.'
The topic of death for some is morbid and not one they wish to discuss. For others that do genealogy, research provenance on antiques, etc. it is part of the journey.
To the Victorians it was recognized, symbolized and honored. Death was such a stark reality from birth that the 18th and 19th centuries found ways to cope with and endure one's passing.
Queen Victoria herself upon the death of her beloved Prince Albert, made it fashionable and respectful. She paid homage to him by wearing widow's weeds (mourning clothes) for the rest of her life. So sacred was he to her that on her deathbed the Queen's face was draped in the Honiton lace veil she had worn on her wedding day. It remained with her into the afterlife.
A lock of hair from a child or a lover was often placed in a locket and worn close to the heart. Postmortem tintypes or miniatures were also commonplace, allowing one's image to be remembered forever.
Buttons, jewelry, hair ornaments, sewing kits all made in shades of black were worn and used out of respect for the period of time that society had deemed.
In today's world we are not restricted by such protocol. We do though honor, cherish and love forever those who have gone before us.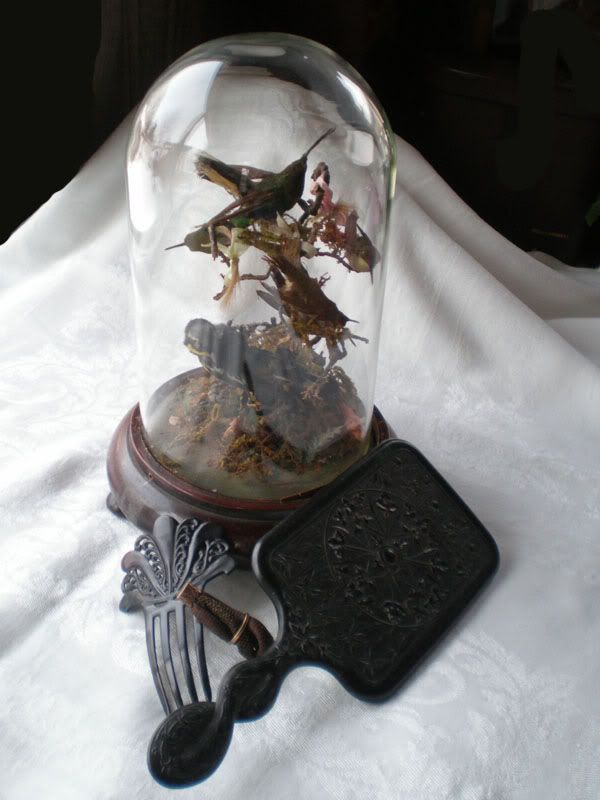 Shown above: Mourning mirror 1866, hair jewelry(brooch), Victorian memorial dome with stuffed birds and locks of childrens' hair tied with silk ribbon. All from my personal collection.