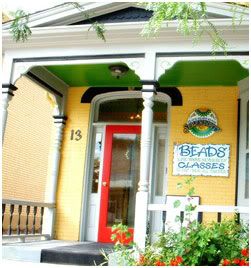 That should be the sign on the front porch as you enter this dazzling haven for beads. After you have passed through it's cheery front door you become transfixed by the goodies held within. This is part of the seduction of Serendipity Beads.
There are beads and baubles in every hue and color. Exotic ones from all over the world beckoning you to touch and envision their splendor.
I went in looking to pass some time and to find a particular one. I came out more than an hour later with a wee paper bag full and my head still in the clouds.
If you have such a place in your area, pay them a visit. You'll be so surprised by the delights hidden inside. And I'll bet my bottom dollar you can't come out with just one bead!