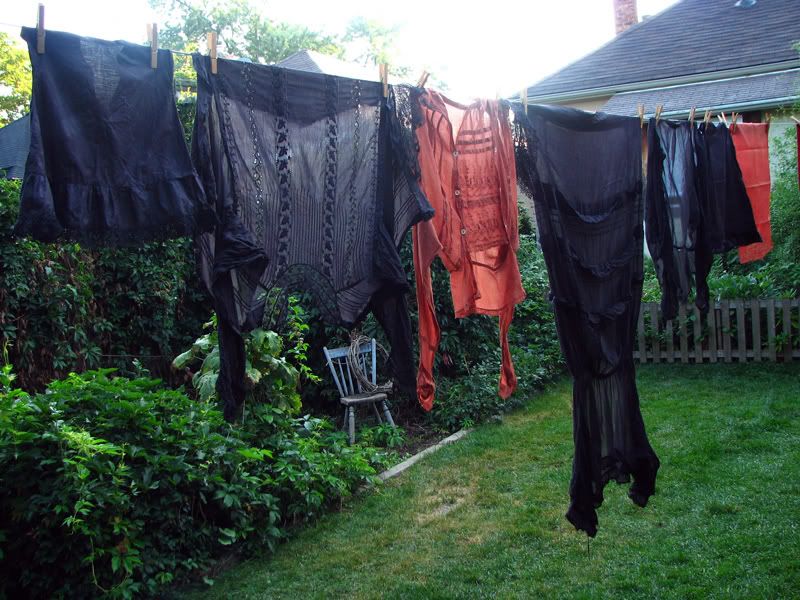 This is my last batch of Halloween, Harvest hand dyed vintage scraps hanging on the line. It was a perfect day for drying them. Overcast and a light breeze, just what they need to protect their soft black and deep rust colors. Now before you go; she did what to those delectable antique fabrics? let me assure you they were stained and worn. But a good dye bath can remedy all that for my dollie makers. In fact, for some of my primitive gals, the more the better. And it is so much fun!
Just like our ancestors did, I start with ingredients from nature. Sumac, birch back, indigo and a few magic touches all go into the pot. I look like Granny Clampett on the Beverly Hillbillies makin' lye soap out of the cement pond. (Now I'm really dating myself.) Fortunately, I don't need to make a wood fire, I just use the side burner on the gas barbecue. I cook it for awhile then let it sit overnight, maybe longer. Add some sea salt, the wet pieces of goodies and let Mother Nature do the rest. (First time I had too much indigo and it all came out purple!) You never know just what hue you'll end up with.
After they dry, the textiles will sit a for a few days then off they go. I can hardly wait to see what delights they'll be created into.